read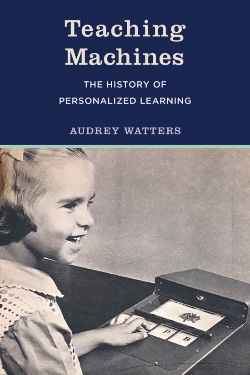 Teaching Machines is available for pre-order via the MIT Press website (and anywhere books are sold — consider supporting your local bookseller).
I spent a few days trying to revamp the Teaching Machines website — before deciding that the template I had was just fine. Now I'm in the process of updating all my various social media accounts with a new profile pic based off the cover.
I absolutely love the cover, by the way. I wanted this photo to be used, but I wasn't sure permissions could be arranged. (That is, I wasn't sure the copyright holder could even be found.) I'll be writing more in the coming days and weeks — all before the publication date of August 3 — about various stories in and not in the book. Why this particular photo matters to me is definitely one of those stories.
I am not on social media these days, which is going to make book promotion interesting. But hopefully I can get back in the routine of blogging more often — here, there, and elsewhere. And at least those who pay attention to the particular bat signal of RSS will know I'm still around.